Tips to Find the Best Hydraulic Tube Assembly Manufacturers
2023-07-17
When it comes to hydraulic systems, the quality and reliability of the components used are paramount. Hydraulic tube assemblies play a crucial role in ensuring the smooth and efficient functioning of hydraulic systems. Finding the right hydraulic tube assembly manufacturers is essential to ensure the highest standards of performance, durability, and safety. This blog explores valuable tips to help you identify and choose the best hydraulic tube assembly manufacturer for your needs.
I. Researching Your Requirements:
Before beginning your search for the ideal hydraulic tube assembly manufacturer, it is crucial to understand your specific requirements. Consider the following factors:
1. Application: Determine the intended application of the hydraulic tube assembly. Different applications may require varying specifications, such as pressure ratings, temperature resistance, and corrosion resistance.
2. Standards and Certifications: Identify the relevant industry standards and certifications required for your application. Ensure that the manufacturer complies with these standards and holds the necessary certifications, such as ISO 9001 or IATF 16949, to ensure quality and consistency.
II. Assessing Manufacturing Capabilities:
Once you have a clear understanding of your requirements, evaluate the manufacturing capabilities of potential hydraulic tube assembly manufacturers. Look for the following:
1. Expertise and Experience: Consider the manufacturer's industry experience and expertise in producing hydraulic tube assemblies. An established manufacturer with a proven track record is more likely to deliver high-quality products.
2. Technology and Equipment: Assess the manufacturer's production facilities, machinery, and technology. State-of-the-art equipment and advanced manufacturing processes often result in superior products.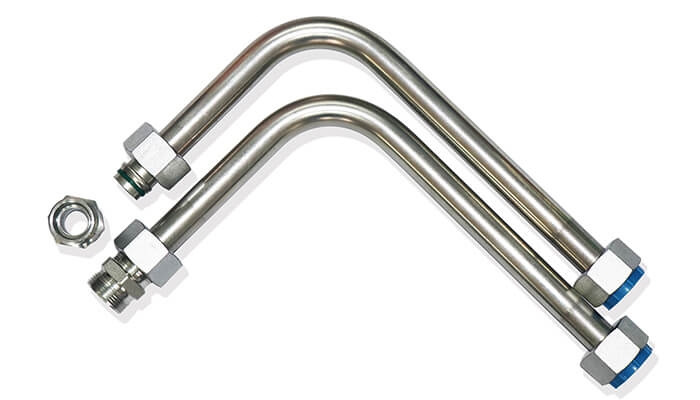 III. Quality Assurance and Testing:
To ensure the highest standards of quality, it is crucial to choose a manufacturer that prioritizes quality assurance and testing. Look for the following:
1. Quality Control Procedures: Inquire about the manufacturer's quality control procedures. A reputable manufacturer will have strict quality control measures in place, including regular inspections, material traceability, and adherence to industry specifications.
2. Testing Capabilities: Check if the manufacturer has in-house testing capabilities. This allows for comprehensive testing of hydraulic tube assemblies, including pressure testing, leak detection, and dimensional checks.
IV. Customer Support and Service:
Excellent customer support and service are vital when selecting a hydraulic tube assembly manufacturer. Consider the following aspects:
1. Responsiveness: Assess the manufacturer's responsiveness to inquiries, technical support, and post-sales services. Prompt and reliable communication is crucial for a smooth partnership.
2. Customization and Flexibility: Determine if the manufacturer can provide tailored solutions to meet your specific requirements. A manufacturer with the ability to customize products and accommodate special requests can greatly enhance your overall experience.
V. Reputation and Reviews:
Finally, take the time to research the reputation and customer reviews of potential manufacturers. Look for the following:
1. Online Presence: Explore the manufacturer's website, social media platforms, and online forums to gain insights into its reputation, customer feedback, and overall brand image.
2. References and Recommendations: Seek references or recommendations from industry professionals or colleagues who have previously worked with the manufacturer. Their firsthand experiences can provide valuable insights.
Ⅵ. Best Hydraulic Tube Assembly Manufacturers: Why Choose Xuzhou Global Precision Steel Tube Co., Ltd?
Xuzhou Global Precision Steel Tube Co., Ltd is committed to the development and production of seamless steel tubes of the highest quality. With adherence to DIN2391/C, EN10305, and SAE J524 standards, the company caters to a wide range of industries including automotive, engineering machinery, railway locomotive, ships, and hydraulic systems. By offering customized tube solutions, they have successfully met the diverse requirements of their customers.
6.1 Quality and Manufacturing Excellence
The company's unwavering focus on research and development sets them apart from the competition. Xuzhou Global Precision Steel Tube Co., Ltd selects steel billets with excellent chemical composition and mechanical properties to ensure superior product quality. Key factors such as elongation, tensile strength, and high-pressure resistance are carefully considered to meet the highest industry standards. Throughout the manufacturing process, every step is subjected to strict quality control and testing, guaranteeing the reliability and durability of their products.
The steel tubes produced by Xuzhou Global Precision Steel Tube Co., Ltd offer exceptional bending and forming properties, making them ideal for various applications. These tubes boast excellent adhesion and high ductility, further enhancing their suitability for hydraulic systems. With a commitment to continuous improvement, the company consistently upgrades its manufacturing techniques and processes to stay at the forefront of the industry.
6.2 Infrastructure and Capabilities
Situated in Xuzhou City, Jiangsu Province, the company benefits from a strategic location just 2.5 hours away from Shanghai. Their state-of-the-art factory spans an impressive area of 168,800 square meters and is equipped with modern production lines and advanced testing equipment. With a dedicated workforce of over 300 employees, Xuzhou Global Precision Steel Tube Co., Ltd has the capacity to deliver an annual output of up to 18,000 tons. The company's products have gained wide acceptance in more than 60 countries, testifying to their global reach and customer satisfaction.
6.3 Commitment to Quality
Xuzhou Global Precision Steel Tube Co., Ltd has established a robust quality management system to ensure the consistency and reliability of its products and services. By obtaining certifications such as IATF16949, ISO9001, and SGS, the company demonstrates its commitment to adhering to international quality standards. This emphasis on quality assurance instills confidence in customers, assuring them that they are partnering with a reliable and trustworthy manufacturer.
Conclusion:
Selecting the best hydraulic tube assembly manufacturers is a critical decision that can significantly impact the performance and reliability of your hydraulic system. By thoroughly researching your requirements, assessing manufacturing capabilities, focusing on quality assurance, considering customer support, and reviewing your reputation, you can make an informed choice. Remember, a manufacturer that excels in these areas, such as Xuzhou Global Precision Steel Tube Co., Ltd, can become your trusted partner, delivering high-quality hydraulic tube assemblies that meet your specific needs.