DIN EN 10305: Definitive Guide to Precision Steel Tubes
2023-07-21
Precision steel tubes are a cornerstone of numerous industries, from automotive to mechanical engineering. They are treasured for their remarkable dimensional accuracy and top-notch surface finish, making them perfect for important purposes. DIN EN 10305 is a globally-known standard that lists the necessities for precision steel tubes. In this blog entry, we'll take a deep dive into the key components of DIN EN 10305 and delineate its importance in the production sector.
I. Understanding DIN EN 10305: A Brief Overview
DIN EN 10305 is a European standard that specifies the technical delivery conditions for seamless cold-drawn precision steel tubes. It encompasses a wide range of dimensions, materials, and manufacturing processes to ensure the consistent quality and performance of precision tubes. The standard is widely adopted by manufacturers across Europe and has gained global recognition for its rigorous specifications.
II. Key Requirements of DIN EN 10305
2.1 Dimensional Accuracy and Tolerance (EN 10305-1):
The first part of DIN EN 10305, known as EN 10305-1, focuses on the dimensional accuracy and tolerance requirements for precision steel tubes. It specifies the tolerances for outside diameter, wall thickness, and length, ensuring that the tubes meet the precise measurements required for various applications. These stringent requirements help maintain uniformity and compatibility across different manufacturing processes and assemblies.
2.2 Technical Conditions of Delivery (EN 10305-2 to EN 10305-6):
The subsequent parts of DIN EN 10305, including EN 10305-2 to EN 10305-6, define the technical conditions of delivery for precision steel tubes. These sections cover aspects such as chemical composition, mechanical properties, heat treatment, and surface condition. They provide manufacturers with guidelines to ensure that the tubes possess the necessary material characteristics and surface finish required for specific applications.
III. Xuzhou Global Precision Steel Tube Co., Ltd: A Leading Manufacturer
One of the prominent manufacturers that adhere to the DIN EN 10305 standard is Xuzhou Global Precision Steel Tube Co., Ltd. With a strong focus on precision and quality, Xuzhou Global has emerged as a reliable supplier of precision steel tubes. Their state-of-the-art manufacturing facilities, coupled with a stringent quality control system, allow them to deliver tubes that meet or exceed the requirements of DIN EN 10305.
In the world of hydraulic systems, precision, and reliability are of utmost importance. This is where the EN 10305 Galvanized Hydraulic Seamless Steel Tube shines. Manufactured by Xuzhou Global Precision Steel Tube Co., Ltd., these tubes adhere to rigorous standards and offer exceptional performance in various applications. With a range of sizes, high-quality galvanized surface treatment, and superior mechanical properties, the EN 10305 steel tube proves to be a valuable asset in the field of hydraulic engineering.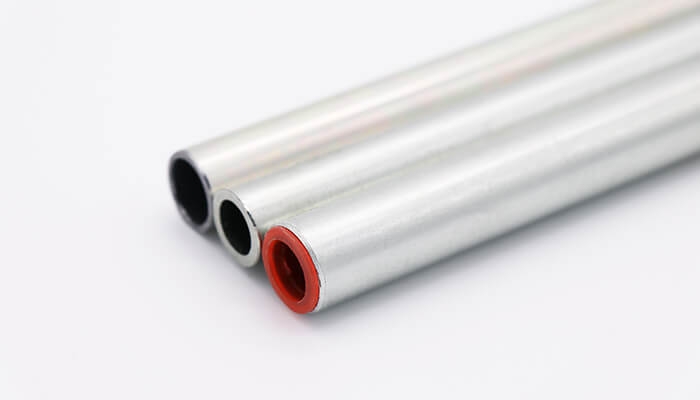 3.1 Standard and Steel Grades:
The EN 10305 Galvanized Hydraulic Seamless Steel Tube conforms to two primary standards: EN10305-4 (DIN2445/2) and EN10305-1 (DIN2391). It also complies with the ASTM A179 standard. The available steel grades are E235 (ST35 ST37.4) and E355 (ST52 ST52.4). These grades ensure excellent performance and reliability in hydraulic systems.
3.2 Size and Dimensions:
The EN 10305 tube offers a versatile range of sizes to suit different requirements. The outer diameter (OD) ranges from 4mm to 120mm, while the wall thickness (WT) ranges from 0.5mm to 10mm. The fixed length of 6m provides convenience, but custom lengths can be accommodated upon request.
3.3 Galvanized Surface Treatment:
One of the key features of the EN 10305 tube is its galvanized finish. The tubes undergo an environmentally-friendly electro-galvanizing process, resulting in a uniform, dense, and well-combined zinc coating of 8 to 12μm. This galvanized layer provides exceptional protection against corrosion and rust, ensuring longevity and durability in challenging environments.
3.4 Superior Mechanical Properties:
The mechanical properties of the EN 10305 tube make it a reliable choice for high-pressure hydraulic applications. With a yield strength of 215 MPa for E215 grade, 235 MPa for E235 grade, and an impressive 355 MPa for E355 grade, these tubes can withstand demanding working conditions. The tubes also exhibit excellent tensile strength and elongation properties, ensuring their ability to withstand stress and pressure.
3.5 Anti-Rust Properties:
The EN 10305 Galvanized Hydraulic Seamless Steel Tube undergoes a salt spray test, proving its superior anti-rust capabilities. Even after 120 hours of exposure, the tube shows no signs of corrosion, ensuring the integrity of hydraulic systems.
3.6 Galvanized and Colorful:
The cold galvanized surface treatment gives the tube a bright and visually appealing appearance. Available in white, yellow, and other colorful options, these tubes can be easily identified and integrated into various hydraulic setups.
3.7 Bending Flexibility:
When subjected to bending, the EN 10305 tube maintains its structural integrity. The zinc coating remains intact, without any drops or detachment, ensuring the overall functionality and aesthetic appeal of the system.
3.8 High-Pressure Hydraulic Applications:
Thanks to its precise dimensions and superior manufacturing process, the EN 10305 tube is ideal for high-pressure hydraulic applications. Its excellent dimensional accuracy and smooth internal and external finish guarantee optimal performance and reliability.
IV. Significance of DIN EN 10305 in the Manufacturing Industry
4.1 Quality Assurance:
DIN EN 10305 plays a vital role in ensuring the quality and reliability of precision steel tubes. By defining strict requirements and technical conditions, the standard establishes a framework for manufacturers to produce tubes that consistently meet industry standards. This, in turn, enables end-users to have confidence in the performance and durability of the products they procure.
4.2 Interchangeability and Compatibility:
The standardized dimensions and tolerances specified in DIN EN 10305 facilitate interchangeability and compatibility among different components and systems. Manufacturers can rely on the standard to produce precision steel tubes that seamlessly fit into various assemblies, reducing the risk of compatibility issues and simplifying the manufacturing process.
4.3 Global Market Access:
DIN EN 10305 enjoys widespread acceptance in the global market. Manufacturers who comply with the standard can expand their reach and cater to a broader customer base. Adhering to DIN EN 10305 provides companies with a competitive edge by demonstrating their commitment to producing high-quality precision steel tubes that adhere to recognized industry standards.
Conclusion:
DIN EN 10305 serves as a benchmark for manufacturers in the production of seamless cold-drawn precision steel tubes. With its comprehensive requirements for dimensional accuracy, technical conditions of delivery, and surface finish, the standard ensures the consistent quality and performance of these critical components. Xuzhou Global Precision Steel Tube Co., Ltd, among other manufacturers, has embraced this standard to deliver precision tubes that meet the stringent demands of various industries. By adhering to DIN EN 10305, manufacturers can uphold quality, achieve compatibility, and gain access to a wider global market, thereby contributing to the advancement of precision engineering.